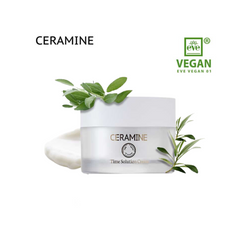 Ceramine
TIME SOLUTION CREAM
Time Solution Cream
✨

Main Features

✨
🌿A gentle, non-greasy, and moist skin recovery, anti-aging cream with concentrated patented ingredients that promote collagen formation & fibroblast growth at the same time, reducing fine lines and wrinkles. It quickly heals the damaged skin and softens the skin texture, gives elasticity and effectively soothes the skin simultaneously, strengthening the skin barrier.

🌱You can experience skin texture improvement in 7 days, recovering youthful skin with skin regeneration. (It can be used after skin laser treatments)
🌲Rich in antioxidants, this enriched cream renews skin elasticity and reduces fine lines, wrinkles, and further damage to the skin from external stimulants. Active and functional botanical ingredients promote skin cell renewal, anti-aging, anti-inflammatory properties, skin brightening, ultra-moisturizing, and stimulation of collagen synthesis through Ceramine's patented MC (Mineral Conversion) Technology.
☘️MC Tech uses natural ingredients grown in Korea to apply their effects and functions to skin cells.  The high concentration of plant energy of Ceramide, Eriobotrya Japonica Lindley Leaves, Yokuinin, chestnut shell, birch sap, and other botanically derived ingredients will restore your skin's youth and vitality.